Passionate Duo : Laetitia Chevallier-Poux et Frédéric Poux
It all started in a pharmacy, where Frédéric Poux grew up surrounded by pharmacist parents. Daughter of a journalist officiating in the women's press, Laetitia Chevallier-Poux, for her part, was bathed in cosmetics from an early age.
After many professional experiences, the couple would like to embark on a new adventure. Building on their shared passion for cosmetics and driven by a desire for independence, Frédéric Poux and Laetitia Chevallier-Poux bought T. Leclerc. Love at first sight with this House steeped in history is immediate.
After years dedicated to making many brands shine, it is time for them to "wake up this sleeping beauty", to reveal her treasures and her know-how. To take over the reins of this beauty brand born in a dispensary, you needed a pharmacist's son and a cosmetics enthusiast. However, when Frédéric and Laetitia Poux started their adventure on March 1, 2020, they were far from imagining the coming health crisis. A delicate start that ultimately makes them stronger.
After all, in 140 years, T. Leclerc had already gone through many trials, never blinking.
« We have a heritage to defend »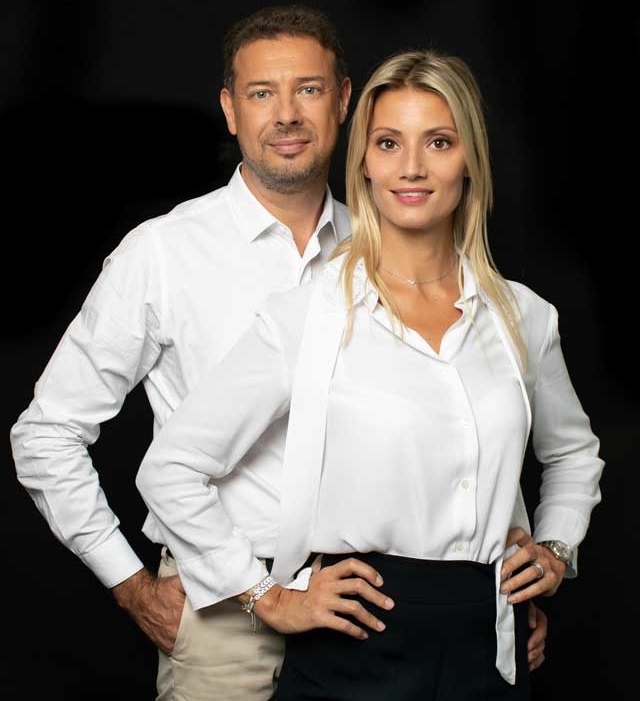 Théophile Leclerc, an avant-garde pharmacist produces a dermophile rice powder in his pharmacy in the Madeleine district in Paris. It's a revolution because during the Belle Époque, women powdered everything: from their skin to their hair to their gloves.
Also a painter in his spare time and passionate about art, he perfectly masters the subtlety of nuances.
The pharmacist thus declined his powder in 16 colors at a time when all the others were white. Very quickly, this soft, fine, vegan and clean rice powder enclosed in a brushed aluminum case that has become legendary, is torn apart. And the pharmacist becomes a real complexion expert.
Almost a century and a half later, the Théophile Leclerc house remains true to its origins. Expert in color, she is now enriched with a wide range of makeup for the complexion, eyes, lips and beauty accessories.