The first "off site" destination of the legendary Lapérouse restaurant at 51, Quai des Grands Augustins, Café Lapérouse settles into the freshly renovated Hôtel de la Marine on Place de la Concorde.
This fabulous location features a spectacular Romanesque decor by Cordélia de Castellane, two sheltered terraces, a very rock'n'roll atmosphere, and an eclectic offering: here, the Lapérouse spirit sparkles from morning to evening, and can even be taken home.
Lapérouse, a sensation
Originally, a certain Lefèvre – "limonadier du roi" (or "drink provider to the king") and wine merchant – established his business at this location in 1766. A century later, it was home to one of the city's finest wine cellars, and Tout-Paris flocked to dine here. While its cuisine has long held a three-star rating, it is the restaurant's little reception rooms that have truly made it famous. (Famed courtesans have endlessly scratched its legendary mirrors to ensure that the diamonds proffered by their beaus are authentic!)
This is a decidedly romantic spot, and indeed Benjamin Patou immediately fell in love with it when he first crossed the threshold: at that moment, twenty years ago, he swore to acquire it someday. To achieve this objective, he joined forces with Antoine Arnault, the businessman and head of communications and image at LVMH and CEO of Maison Berluti. Together, they set out to spread the Lapérouse sparkle throughout the world.
The Café Lapérouse at Hôtel de la Marine is the first location of the brand which will go on to be exported to the world's trendiest spots. After Paris (Hôtel de la Marine and Printemps Haussmann) and Saint-Tropez this June, future openings in this voyage of which the Count de Lapérouse himself would have approved include New York City, London, Singapore and Miami.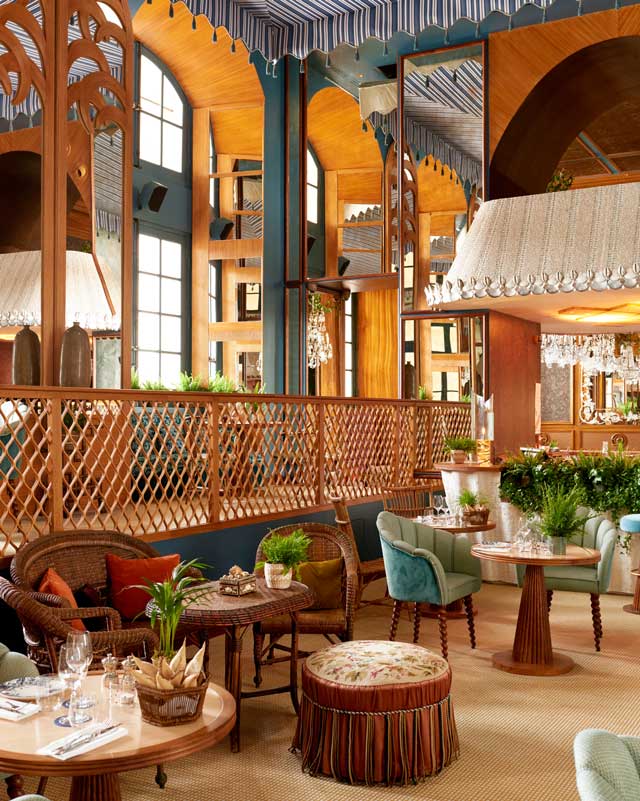 Serving eclecticism.
A restaurant, a bar, a wine cellar, a fine foods store, and a chocolate and ice cream shop: Café Lapérouse is all of these and more. It is a perpetually effervescent meeting place. Open non-stop throughout the week, it is a place to share in excellence, by day and by night.
For a chic breakfast, a romantic lunch, an important meeting, a break from the bustle, an off-the-cuff tea-time, a festive cocktail, a refreshment on the terrace, a cheerful dinner or an animated evening… From 8:30 a.m. to midnight, the team – exclusively female, for this is a place where women reign supreme – serves guests in this temple of sweet-and-savory indulgence, where you can get away from it all and yet feel at home. The common thread: to make every instant a memorable moment. Like a little celebration.
An extraordinary voyage.
Cordélia de Castellane – also the artistic director of Maison Dior and Baby Dior – took on a very talented crew to design this incredibly charming setting, inspired by the travels of the explorer who lends his name to the restaurant. She created an opulent decor mingling 18th-century influences, colorful prints and touches of Art Deco in an irresistible mix of styles reminiscent of Madeleine Castaing.
« Le salon du Navigateur » –  an enchanted fantasy.
As soon as you enter, you feel that you have boarded an imaginary ship filled with furniture in turned wood, rattan, and nautical prints playing on the tonal range of Lapérouse blue. The extravagant yet poetic mural fresco appears to be glimpsed through a porthole, presenting an exotic, fantastic world that reaches to the sail of this fabulous ship under the dizzying height of the ceiling.
The Bar – imagination at the wheel.
As if through the looking glass, the bar takes you into a different world: you leave the "back from the West Indies" atmosphere to enter the Orient Salon. And vice versa. In a spectacular, dreamlike composition, the bar is entirely adorned with shells. And to keep on an even keel, six incredible bar stools with shell-shaped backs invite you to take a seat at the iridescent counter.
Le Salon Orient – a charming mix & match.
The Orient Salon is like the very 18th-century smoking lounge that Jean-François de Lapérouse might have decorated with souvenirs of his voyages over time. It exudes the heady wood-paneled cocooning atmosphere of the restaurant: shades of pink, coral and deep red; mahogany wood and Cordoba leather; backgammon tables and soft light diffused by majestic antique Baccarat chandeliers. And let us not forget the mirrors on the walls that await their turn to be scratched and scraped, so that the legend may live on.
On the terrace – a travel diary.
Two terraces, each with its own atmosphere. Pure Parisian chic on the Concorde side, with an unobstructed view of the Luxor Obelisk and iconic canework chairs. Pistachio-green metal furniture, print cushions and lush foliage on the courtyard side, for a terrace suffused with tropical exuberance! Both are sheltered under arcades for smooth sailing, regardless of the weather.
While Cordélia de Castellane created the patterns and designs, she called on the artist Thomas Boog for the bar, Fleur de Galard for the shell furniture design, L'Atelier Jean Roger for the ceramic light fixtures, and the landscape artist Milan Hajsinek for the plant arrangements of the terraces.
The cuisine
The cookery here is trendy and light. Savory delights include exquisite variations on the very Parisian croque-monsieur, as well as soft-cooked eggs in a must-have version where the dunking bread is also the egg cup, topped with truffles, mullet roe or caviar. Alongside these undisputed stars, the menu lists flavorful aristocratic snacks, delectable California-style vegetarian salads, and the latest foodie trends such as the hearty smash burger, the lobster roll and macaroni crab & cheese. Of course, it offers some of the classics that have made Lapérouse famous, such as pâté en croûte, foie gras, and center-cut smoked salmon.
Sweet treats may be enjoyed on-site or taken away. These include Pains à la Duchesse – a sort of éclair, a Lapérouse original – and a full range of pastries and customizable frozen yogurts.
Of all the well-known regulars of Lapérouse, Victor Hugo was probably the only one to bring his family: each week, he invited his grandchildren to enjoy the jams and madeleines here. Today, these "Proustian" snacks – for the writer mentioned the memories inspired by the taste of the cakes in his In Search of Lost Time – are also available for sale at the boutique, wrapped in pretty packets designed by Cordélia de Castellane.
The legacy of the "Limonadier du Roi:" an exceptional wine cellar.
 With more than 1,000 wines to choose from, the cellar celebrates Burgundy but also stops over at every wine region in France, and of course gives pride of place to the sparkle of champagne. It proposes a discerning selection of wines-by-the-glass and a wide choice of bottles available at the boutique on the well-informed recommendations of sommeliers.
September 2021: inauguration of the Fine Foods Store – Wine Cellar, Chocolatier, Ice Cream.
Like an extension of Le Salon Orient, the "Épicerie-Cave" adorned with wood and Cordoba leather. In addition to bottles from the Lapérouse wine cellar, now available for retail sale, the fine foods store offers a very elegant selection of impeccably sourced products. These include Lapérouse house jams and madeleines, of course, but also foie gras, truffles, Bellota ham, Wagyu beef, caviar, and more. You'll also find tableware featuring the charming vintage print designed by Cordélia de Castellane.
Adjacent is the Chocolate – Ice Cream parlour, offering sweet flavors in a very glamorous boudoir atmosphere, where delectation begins with the eyes!
2 place de la Concorde – 75008 Paris
+33 (0)1 53 93 65 53
reservation@cafelaperouse-concorde.com
www.cafelaperouse-concorde.com