Unritrattoperunirci | Unitedaroundaportrait
Vincenzo Marsiglia
Curator of the exhibition: Julie Fazio
With the support of Boesso Art Gallery
The project
Moderne Art Fair will be hosting the digital and interactive installation UNRITRATTOPERUNIRCI by Italian artist Vincenzo Marsiglia.
It all begins in March 2020. The whole world is facing a pandemic, a new and unknown virus that is turning our lives upside down. Everything suddenly stops. A void is created, a media bombardment, emotional chaos, a crisis linked to the deprivation of our usual social ties, a feeling of abandonment, forced reclusion and a drastic change in our daily lives.
 The essence of the project
The project, titled #unritrattoperunirci, was developed by Italian artist Vincenzo Marsiglia and Swiss-Italian curators Julie Fazio and Laetitia Florescu-Sperti, with the aim of uniting people via social networks to maintain relationships that have become impossible or interrupted as a
result of confinement.
It developed over a period of several months, publishing a new portrait every day on social media and involving almost 500 people from the world of art and culture, public figures, the medical profession, our new heroes, and also amateurs and enthusiasts who believe in the innovative power of art.
The essence of the project lies in a simple gesture: the selfie – which has become commonplace in our digital age. The artist's idea was to ask for a photographic snapshot which, transformed into an art portrait, would become a symbol of hope, rebirth, solidarity and positive thinking during this time of pandemic.
A digital portrait which, like all Vincenzo Marsiglia's work, is based on a four-pointed star that has become his trademark and symbol over the years. The art thus stands as a ray of light in a dark and uncertain time. Vincenzo Marsiglia's intention was to create a community that would be both virtual and real. A virtual community, because the project was born first and foremost through social media, which became the artists' only means of exposure and expression during the period of confinement. This virtual community has become our reality, our window on the world, a means of communicating and maintaining contact despite confinement. A real community, because the artist wants this project to become our memory, a look back at the past. The project stands as a witness, where the constellation of portraits becomes an archive of that historic moment when art continued to live and express itself.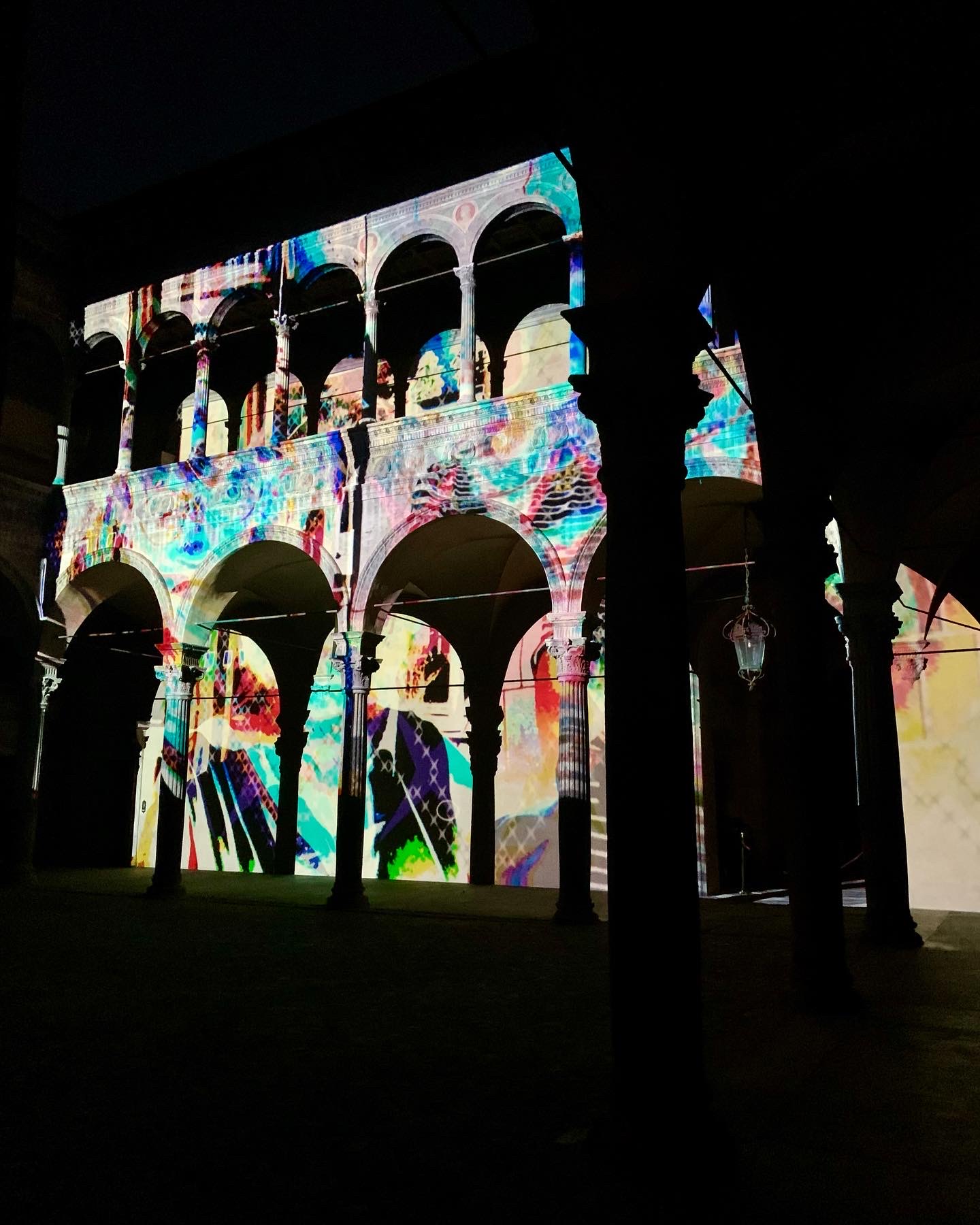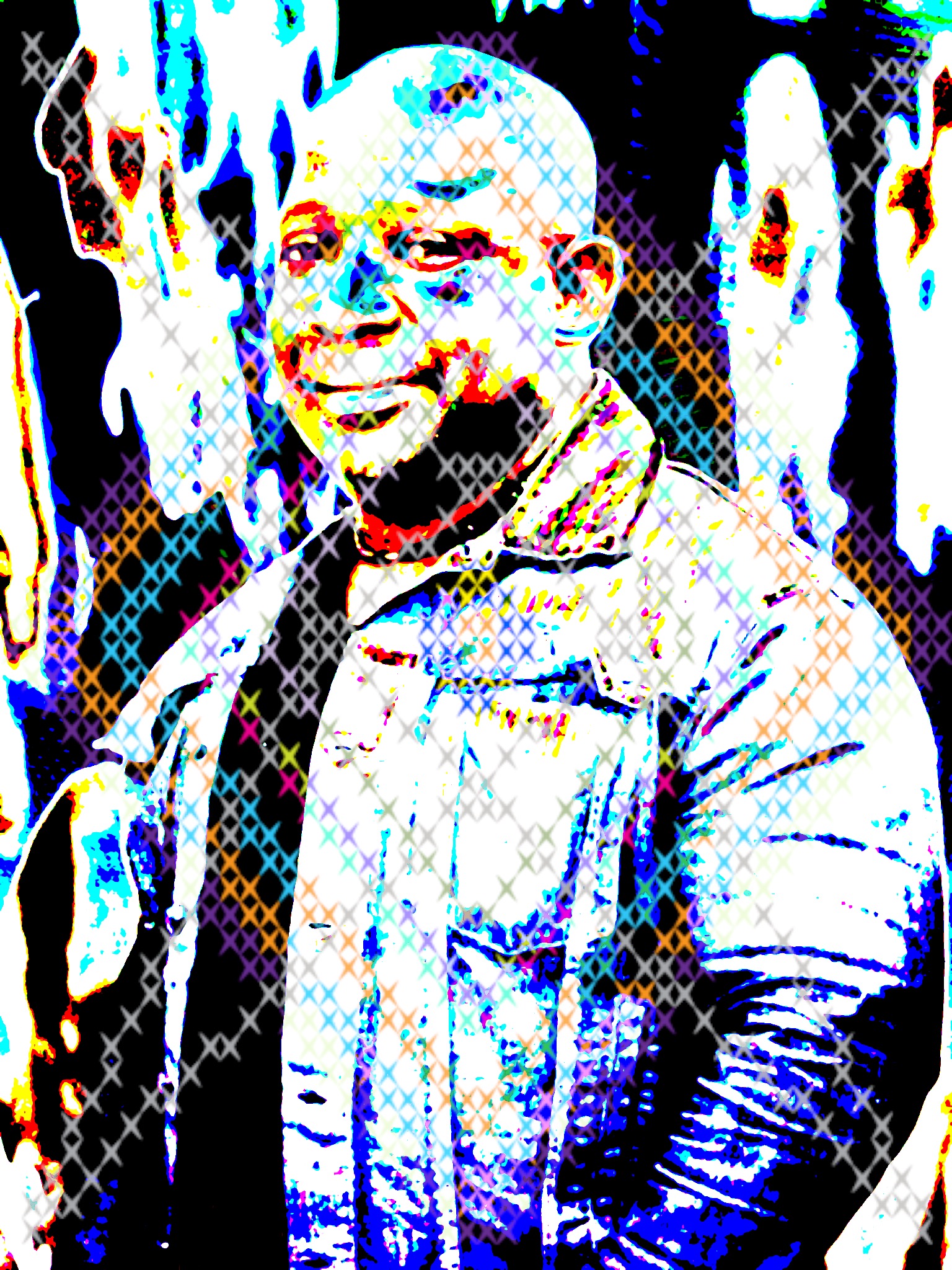 The project was not confined to the simple digital spheres of social media and was transformed into a work in situ, like a manifesto, a digital and interactive installation. The constellation of portraits becomes a work in its own right. To achieve this, the artist has created a Unitedaroundaportrait App for iPad, which generates the portraits with a 'morphing' effect that makes the transition between each portrait as natural and fluid as possible. In this way, for a brief, barely visible moment, the previous portrait becomes intertwined with the next, creating a hybrid person. It's an interactive installation, because during the projection the viewer can interact with the work using an iPad, which will instantly interweave his or her digital portrait into the projection in progress.
To amplify the immersive, multi-sensory experience for the viewer, Vincenzo Marsiglia has worked with an Italian musician, Simone Boffa alias Ocrasunset, whose soundtrack is integrated into the application.
The essence of UNRITRATTOPERUNIRCI is to go beyond the spheres of the virtual to bring this project to a Public Art Travelling Project in the form of a digital and interactive work. Going beyond the virtual to reach the real, two worlds that coexist but where perception is not the same. Art acts as a link, creating a passage, a path. Each stage brings more people together and creates interactions. UNRITRATTOPERUNIRCI stands not only as a witness to a historical period, but also as proof that art creates connections, links between people, who for a brief moment are united through art. More than 1,000 people have now taken part in the project by sending in their photos, including TV presenter Karine Ferri, singer Laura Pausini, singer Piero Pelù, composer Alfredo Rapetti Mogol, international artists Abdoulaye Konaté and Barthélémy Toguo, and the director of the Moderne Art Fair Isabelle Keit Parinaud.
The fifth stage of the project will take place in Paris at Moderne Art Fair – Pavillon Art Contemporain, curated by Julie Fazio with the support of Boesso Art Gallery. Vincenzo Marsiglia has developed a new artistic proposal in which the viewer is totally immersed in the work, like a Black Box.
The viewer will enter a darkened room where the flow of portraits will be projected simultaneously onto each wall, with a morphing effect. A mirrored floor will be laid to enhance the immersive effect. The portraits projected onto the walls will be reflected on the floor, creating a total visual effect.
UNRITRATTOPERUNIRCI will be exhibited for the first time outside its native country and it is naturally in Paris, a city dear to the artist's heart, that the project will take place.
"Art and culture have always been means to enhance knowledge and favor a 'renaissance'; and often enough they were the best expedient to enact a new message. I would like to invite you to add your voice to this new message by a simple act: a selfie, a photo picture which I will transform into an art portrait." Vincenzo Marsiglia.
Vincenzo Marsiglia was a finalist in the 'Artist' category of the Premio Cinello Unlimited with his project UNRITRATTOPERUNIRCI.
https://www.cinellounlimited.it/edizioni/2020