Exhibitions Marie Piselli
Marie Piselli is an established French visual artist who lives and works in Paris. Armed with her creative and artistic emotion facing the understanding of "Being in the world," the artist has worked for many years to imagine Tomorrow. She observed our "human anthills," our "urban cribs," and built a dense and powerful artistic work about the human footprint. Her painting, stencils, felt-tip drawings, sculptures, installations, designs and unique jewellery pieces capture her inner feelings strength, and instil her philosophical reflections on moments in life.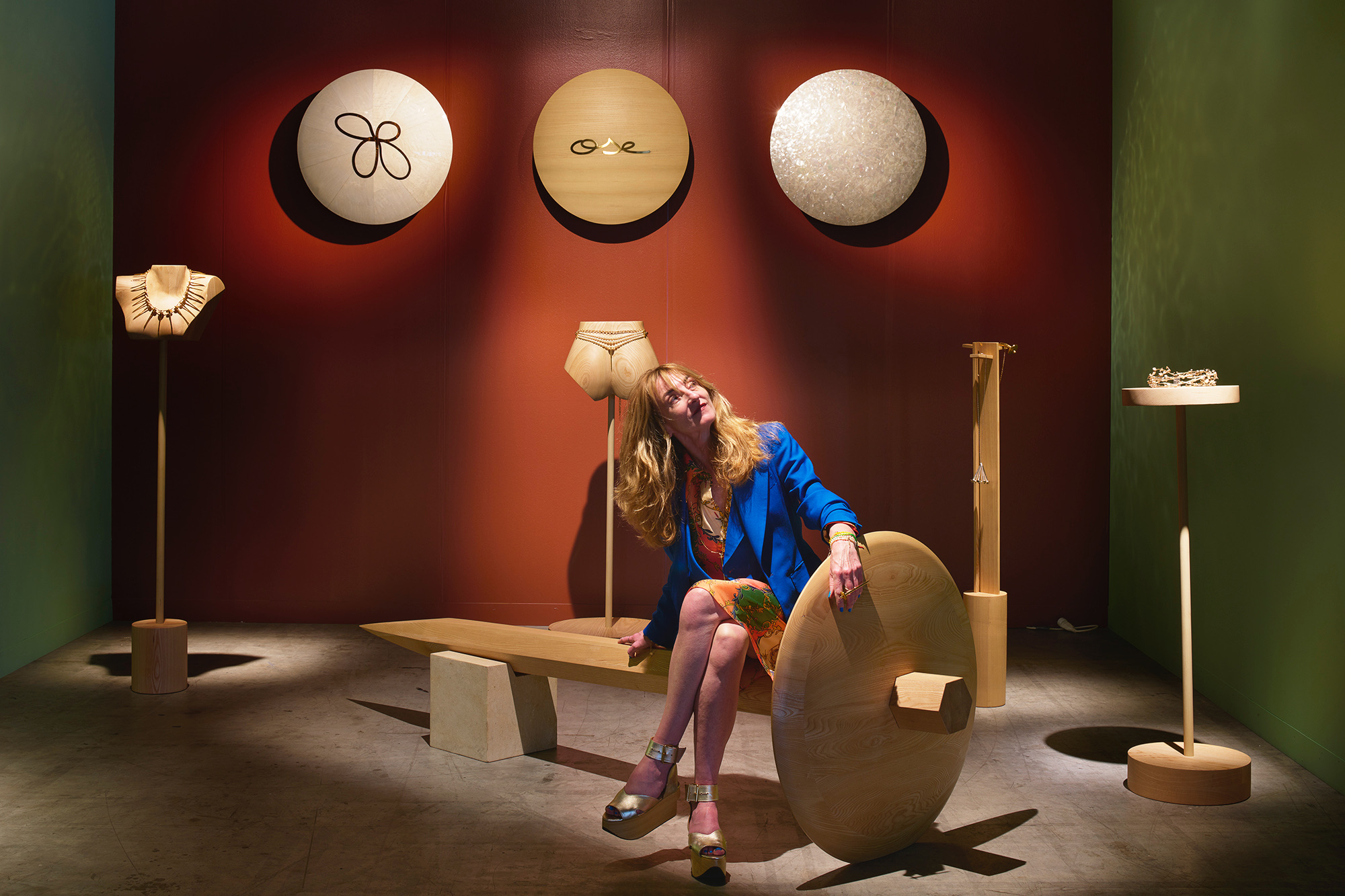 Her work is contemporary; her art appeals to our senses and inevitably draws us into the future. Her art tells of chosen moments, of intimate gestations with an apparent lightness, that are not at all innocent but raise questions and offer a genuine artistic exchange beyond the "now". Imbued with limitless inventiveness and ideas, Marie Piselli has a vital need to inject art into everything that surrounds her. As a result, she overflows with extraordinary creative energy, which leads her to leave her mark, her artistic DNA, on multiple mediums.
The premise of a creative act is destruction, the necessary first step towards total freedom of expression. The chisel, the powerful tool of a sculptor, is presented here in a resting position as a 2.5 metre ash wood bench that will offer visitors a place to sit and contemplate their inner creative force.
Three shields are hung on the wall, respectfully celebrating the chisel destructive and creative power. Today, they represent a weapon against the war that strikes Europe; in solidarity with the martyred peoples, these precious and poetic shields symbolize the rediscovered Peace: in harmony, charged with hope, they repel the arrows of violence.
They are made of ash wood and mother-of-pearl marquetry, produced in Sicily in a 5th generation Italian marquetry workshop. On the ground are the products of the chisel violent, primal creative act, above all poetic and filled with the mystery that the public will grant him. Shattered pieces of Carrare marble expose and support unique pieces of jewellery made in Paris in the secret workshop that produces French haute couture jewellery. Each jewellery piece act as talismans, harnessing the power of sacred spirits which protect, transform and take you to a better elsewhere.
I invite visitors to step in, feel the vitality of this volcanic eruption of the sweet symphony of "Renaissance".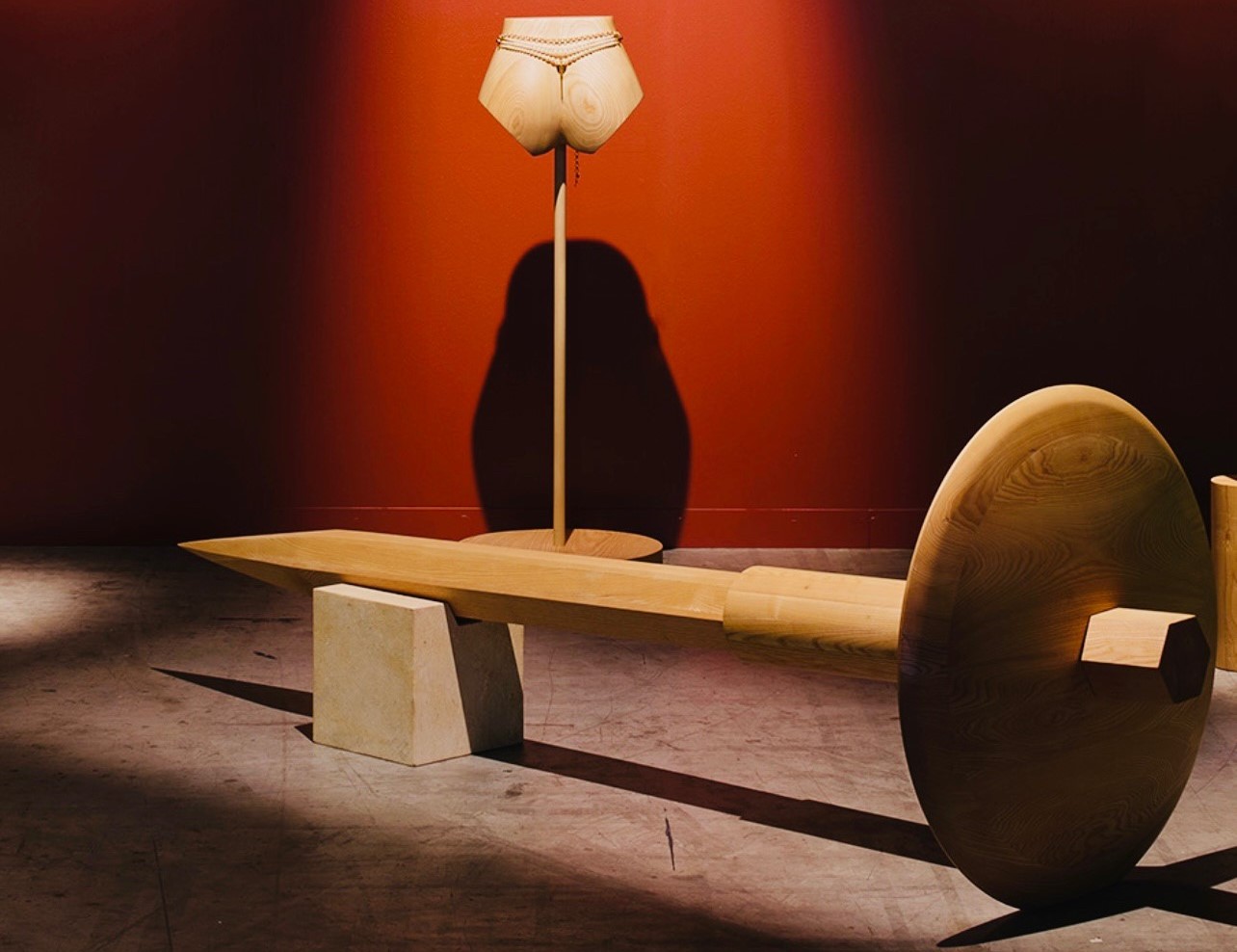 CHISEL allows the public to find proposals for non-conforming "off-beat and joyful" behaviors. I also hope for mutual enrichment where everyone can find the tools for critical thinking, an essential preamble to the alternating thoughts that are the basis for change; only change is constant in our lives.
These tools are symbolized by this object, light in color, free of all traces, and ready, symbolically, to help visitors search for "their" renewal to invent and sculpt.
CHISEL itself symbolizes a tool, a chisel (used in sculpture) helpful in breaking the encysted codes in a society that delivers ready-to-think and locks them up.
The audience can sit on the sculpture and imagine approaching this exit.
SHIELD is a symbol of rediscovered Peace. It diffuses the exit from confinement, joy, reconciliation, rebirth. It represents the symphony of the new world after the attack of viruses and wars. Unlike the others, this shield rejects the arrows that men are shooting at the planet to destroy it and destroy themselves.
SHIELD collects information about our troubled times, reclaims them, transforms them, and sends them back in a message of hope charged with positive waves.
SHIELD endless shield against endless negative emotions.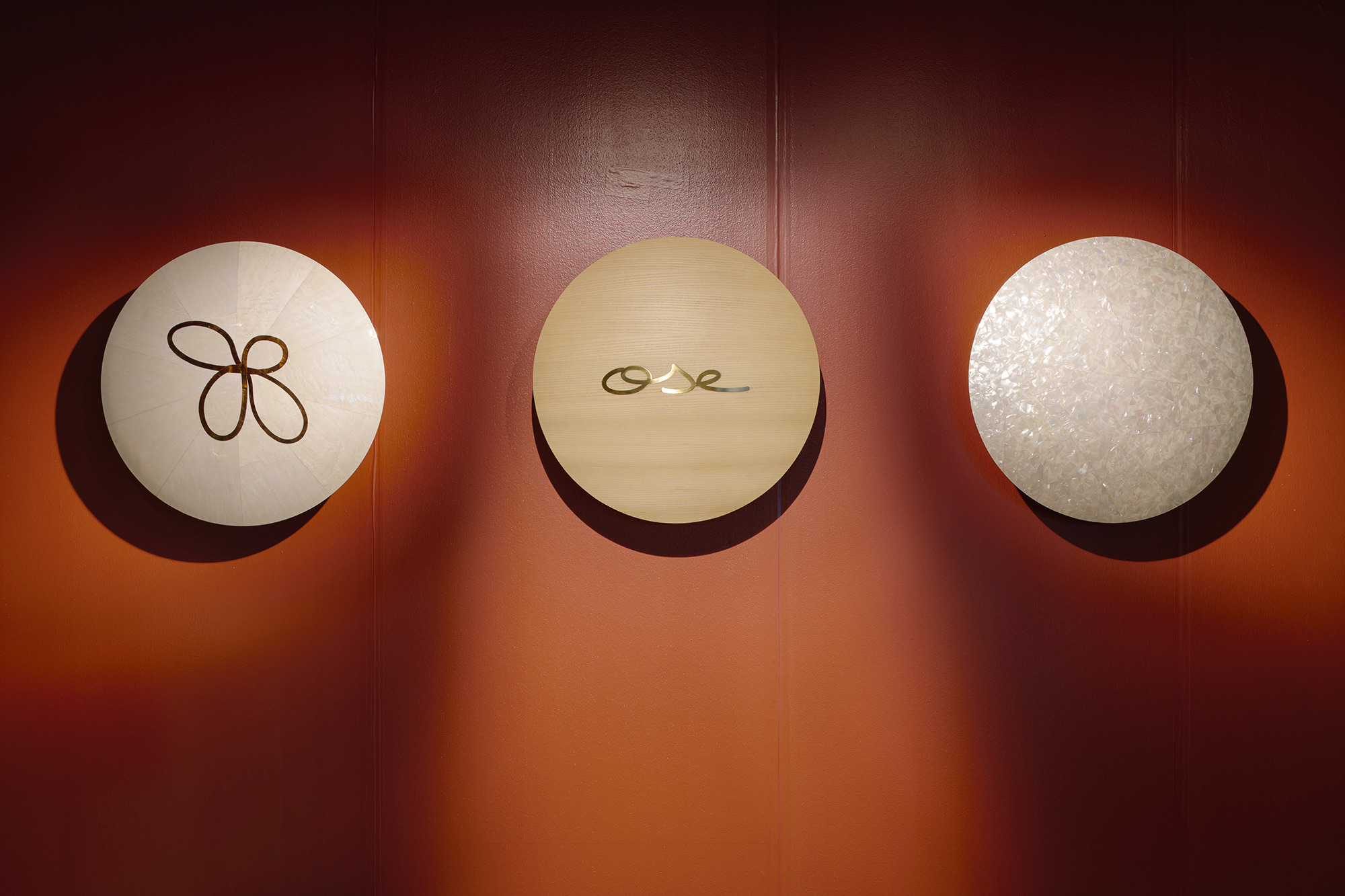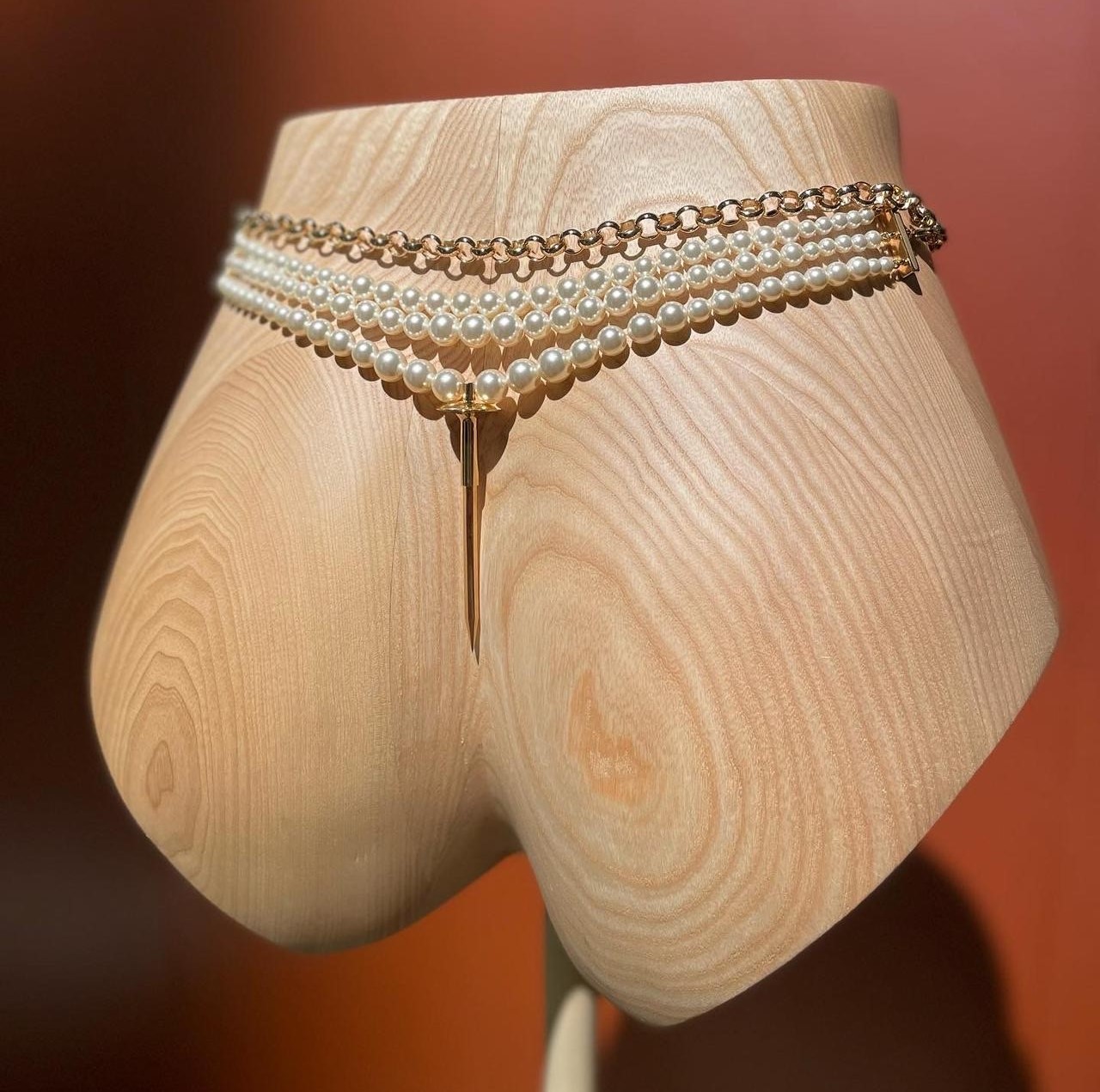 This jewellery collection made of porcelain and precious metals are intimate, rock punk, yet as delicate and solid as me. They reflect my Parisian lifestyle, emotionally impressed with the 21st century broken faces, crushed by wars, terrorism, refugee crisis and the imminent ecological catastrophe that mankind is facing.
They are raw, yet poetic and delicate, whilst symbolical and conveying hope in human nature. They complement a series of artworks on those intimate yet emotionally scouring topics.
For centuries, France has been nursing a tradition of fine and luxurious craftsmanship. It is what I attempt to celebrate with all subtlety in my work. My jewellery line is created in a secret Paris workshop that also support the production of the most established French fashion houses.
Quote: OSE is "creation" with a purpose. Marie Piselli translates her creative vision into raw yet delicate design pieces that amplify our sense of power and unicity. The exceptional pieces are made of brass and plated with either gold or palladium.
La Symphonie du Oui: Book co-writen with Alain Gachet
Artistic concept
YES is a Talisman, the new face of the post COVID, soothing and magical! YES is a relay, an inspiring passage from amazement to action, towards a harmony between man and nature. YES is a symphony that reconciles us with our environment as well as with all the forces of the universe that dominate us, nourish us and protect us.
(An installation of 100 numbered OUI, mineral sculptures cast in Baux stone 14 cm x 5 cm).
In a Europe plunged into the pandemic, an artist fights against the ready-made thinking of our society. She has created YES, a work of art that acts as a shield against negative emotions.
On the other side of the world, a geological explorer continues to search for deep water in the most arid areas of the globe, where climatic extremes now reach the heart of the most fragile states. He listens to the rocks and decodes their whispers that tell the story of our evolution.
In this moving and sensitive dialogue, between science and poetry, Alain Gachet and Marie Piselli share their thirst to understand this world. In a game of questions and answers, they bring out a universe where man and nature cannot escape the logic of a dynamic balance where nothing is given and everything is to be conquered. They compare their respective visions of human nature, reveal their personal rituals and address the subject of water, the primitive source of life that unites them and reconciles them with the world.
Both offer to the reader's reflection their path illuminated by a strange glimmer of optimism about the future in the words of the meeting of science and art.