Millenn'Art
A new contemporary scene
An innovative concept
Millenn'Art
Created in June 2021 by Annabelle Cohen-Boulakia, Millenn'Art promotes young French and international artists. A new concept: Millenn'Art is both a gallery and a club for young people who want to discover contemporary art.
The Millenn'Art Club offers its members the chance to discover art through a range of regular and diversified events: visits to artists' studios, exhibitions in museums and foundations, fairs guided by art market experts, and invitations to special events.
For the new edition of Moderne Art Fair, Millenn'Art presents 5 contemporary artists: Daniela Busarello, Sacha Floch Poliakoff, Léo Nataf, Elisabeth Raphaël and Victor de Rossi.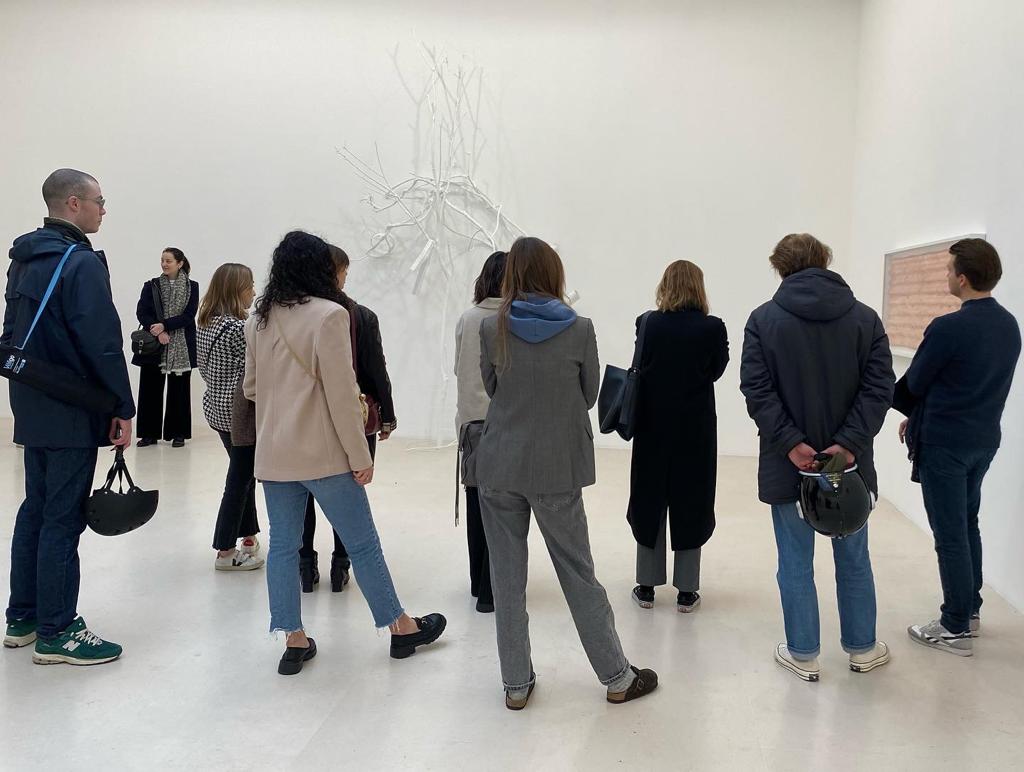 Daniela Busarello
Painting | Sculpture | Drawing
Her work
Born in 1973 in Curitiba, in Brazil, a Parisian by adoption, Italian by intermittence, she evolves in a cosmopolitan environment that gives her art light and nature, vitality, reflection, precision and delicacy.
Born into a family of architects, she studied in Paris at the École du Louvre and the Beaux-Arts. An artist concerned with re-establishing harmony between culture and ecosystem, she explores nature from the perspective of a soothed, unifying, syncretic feminine, driven by a cyclical vision of time. Her language confronts the infinitely large and small so that they respond to each other with sensuality.
Faithful to the Latin concept of genius loci [spirit of place], Daniela Busarello explores different territories, places where the gathering of "witness materials", present in her work, is carried out. The subtle expression of nature in its osmosis with human.
About
Annabelle meets Daniela in January 2023. Annabelle will be collaborating with this artist for the first time at Moderne Art Fair.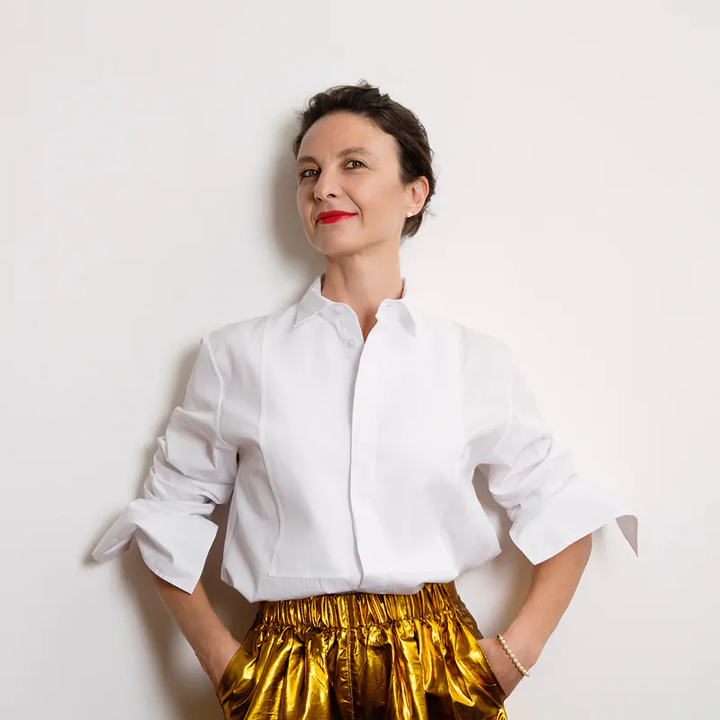 Daniela Busarello @
ADAGP 2020
© photo: Colombe Clier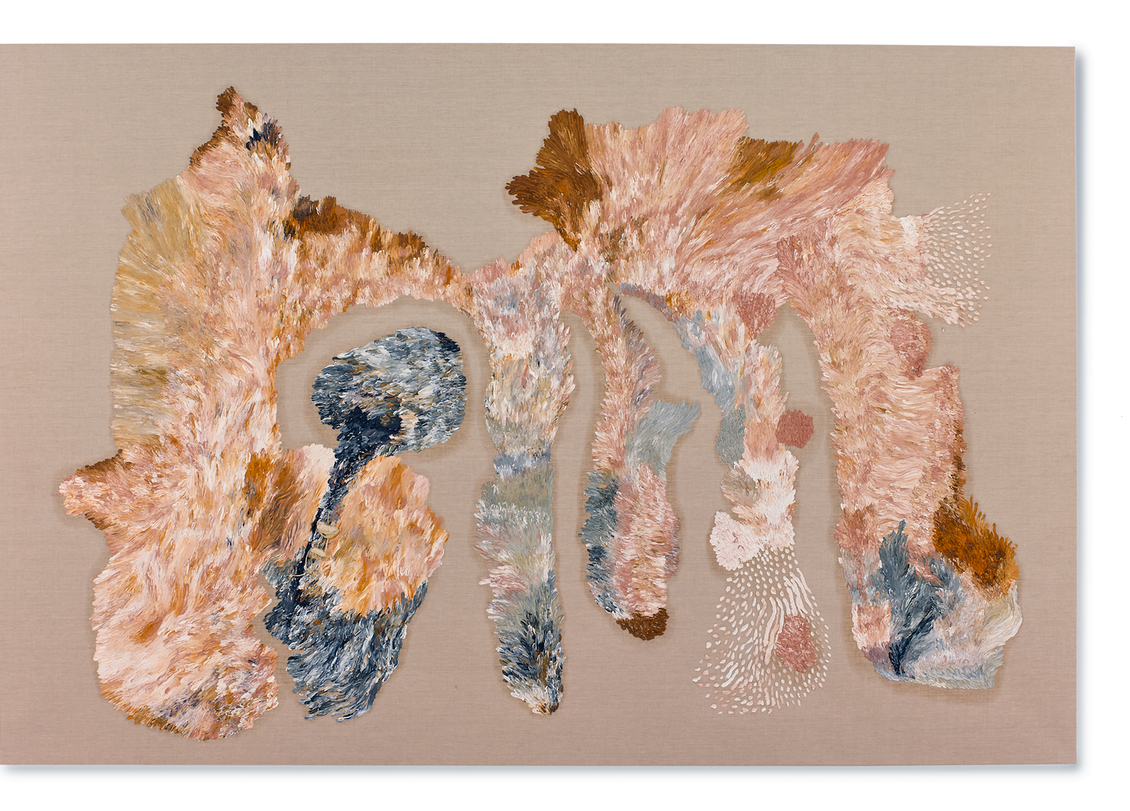 Daniela Busarello 
Hommage à Courbet II
H50 x L70cm 
@ADAGP 2018
© photo: Daniela Busarello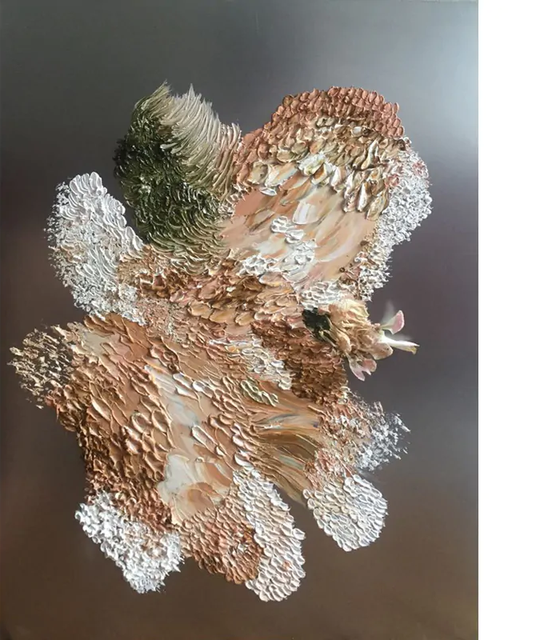 Daniela Busarello
IL.XXIII 
H 200 x L 300 cm
@ADAGP 2019
Collection Particulière
© photo: Thibault Breton
Sacha Floch Poliakoff
Drawing | Painting
Son travail 
Sacha Floch Poliakoff was born in Paris in 1996. She's the great-granddaughter of Serge Poliakoff, she's influenced by her origins and family heritage.
Influenced by the Renaissance and Pop Art, Sacha's paintings universe  is inspired by Russian and English archetypes (horse imagery, the legend of Saint George, Tartan).
She has a particular affection for objects, for her, they are precious witnesses to what moves and surrounds her. She collects them, makes them sacred. These obsessions and fascinations are revealed through collages, drawings, scarves, paintings and watercolors.
Through it all, we find a universe driven by color and more or less figurative forms, using a variety of techniques. Sacha also enjoys repurposing art-historical classics, so that they can live on. Each of her images has a story, an evocative power. It's a virtual memorial where past and present meet.
About
Annabelle and Sacha have been friends since early childhood. This friendship has created a real bond of trust between the artist and the gallery owner.
At her first exhibition in 2018, Annabelle presents Sacha's work.
In 2023, in collaboration with Clavé Fine Art, Annabelle organizes Sacha's first solo exhibition.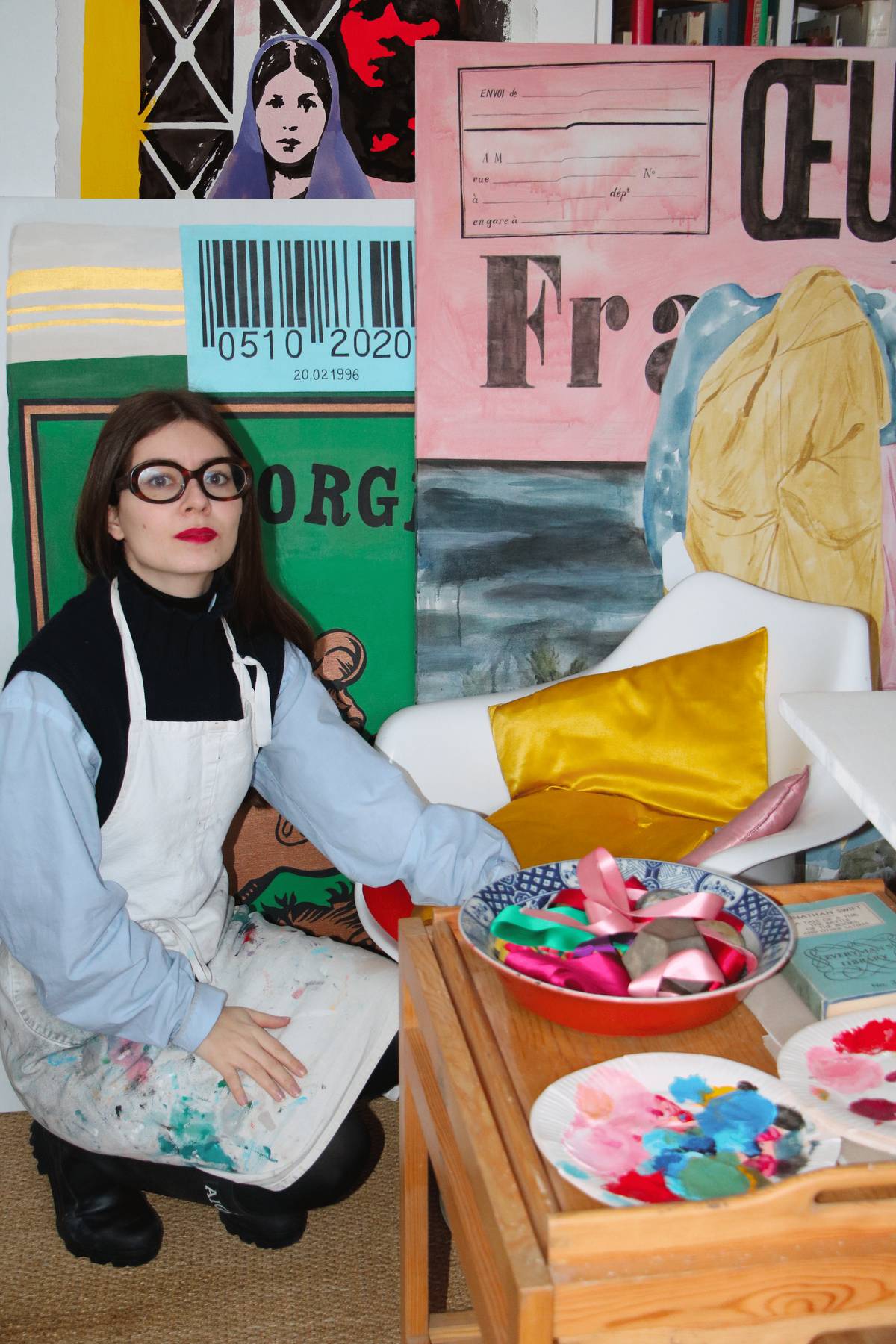 Illustrations for numerous print media titles (Le Point, Les Echos, Gala, Point de Vue…)
Galerie Clavé Fine Art in collaboration with Millenn'Art Galerie Pixi, Paris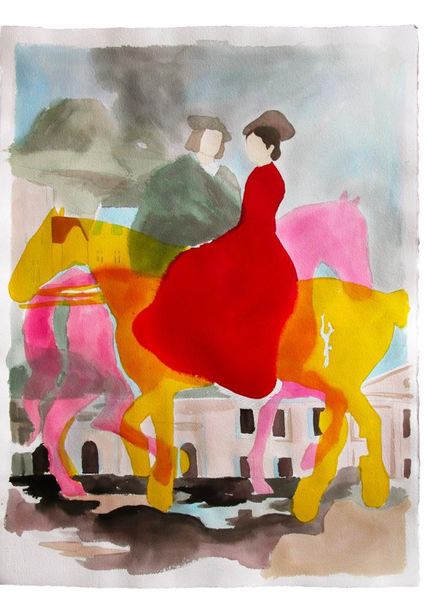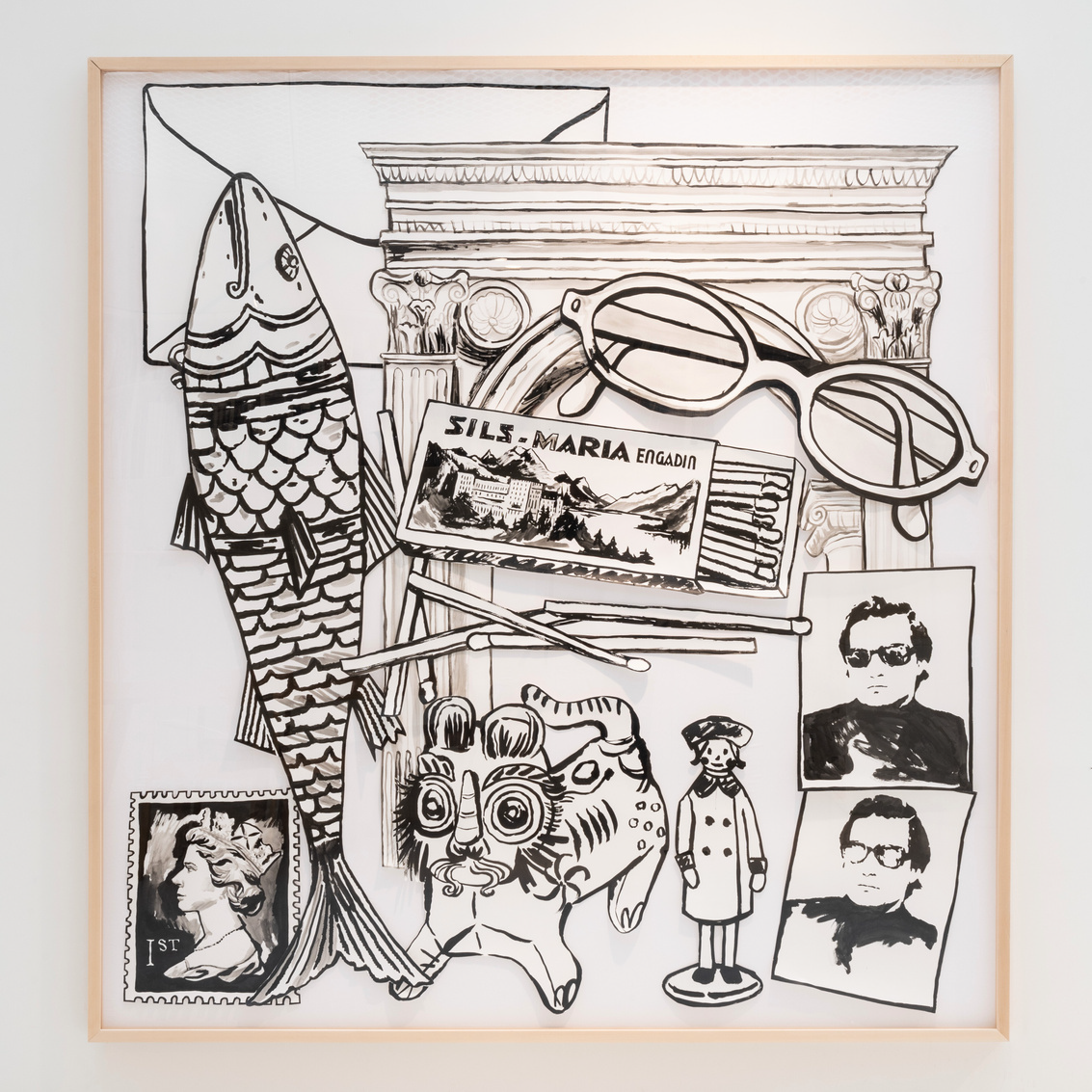 His work
Léo Nataf was born in Paris in 1994.
His approach is rooted in a fundamental relationship with materials, their density and resistance. He works right down to the substance, letting the material have free rein, beyond the control of his hand. The artist then observes the shape and plasticity of the material as it transforms, at the whim of natural hazards. He incorporates various media into his work, notably wood, enamel and bone, but also drawing and, more recently, weaving.
Alongside his work as a visual artist, Léo Nataf is passionate about anthropology. His approach is therefore punctuated by back-and-forth exchanges between his own culture and those of others, to his own history and to History. His artistic work is inspired by encounters and immersive journeys to communities in territories such as Papua New Guinea, Mexico and, more recently, Amazonia.
About
Leo Nataf has been working with Millenn'Art since 2020. He takes part in the first group exhibition "Premiers regards".
In November 2021, Annabelle organized Leo's first solo exhibition, in collaboration with Clavé Fine Art.
Finally, in October 2022, Annabelle presented Leo's work in London at Galerie Boulakia.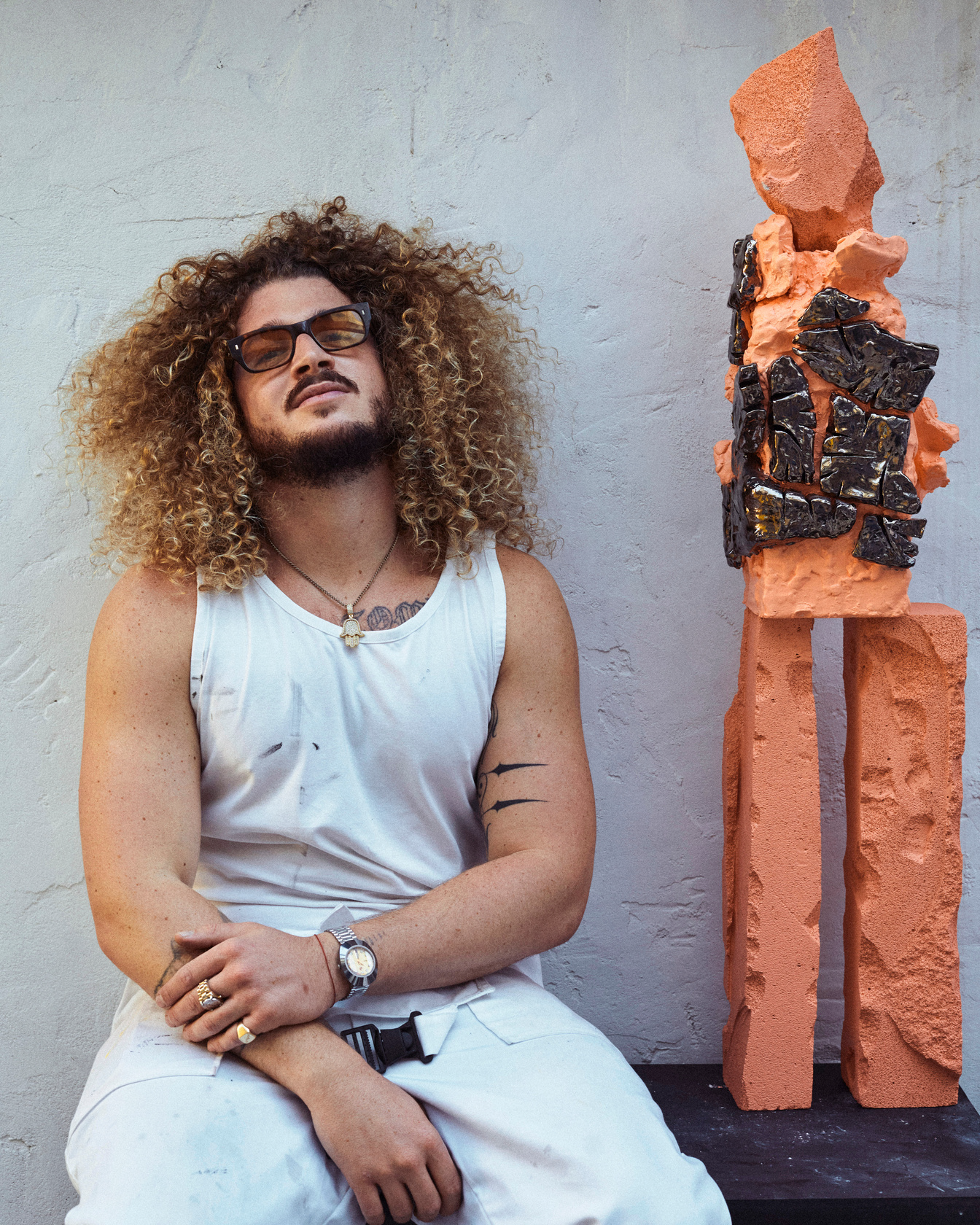 Galerie Clavé Fine Art, in collaboration with Millenn'Art Galerie Boulakia, London.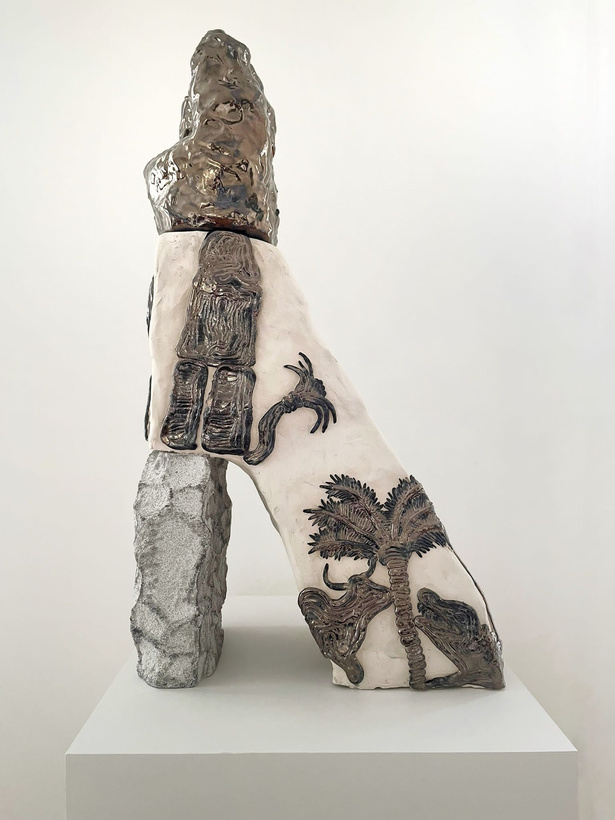 Elisabeth Raphaël
Painting | Sculpture
Her work
Graduated from the Institut des Langues et Civilisations Orientales, she defended her thesis on China's defense policy at the Institut d'Études Politiques de Paris.
A historian of China, where she traveled a lot, and an analyst of the strategic policy of the People's Republic of China for many years, she taught Chinese civilization until 2021, alongside her artistic activity.
Her work is inspired by the philosophers, poets and thinkers of the Jewish tradition. Elisabeth Raphaël learns from the writings of artists such as Mel Alexenberg, Constantin Brancusi, Eduardo Chillida, Paul Klee, Barnett Newman and Mark Rothko. For Elisabeth Raphaël, the questioning, emotions and wonder of art can enable mankind to reconnect with human nature, which has been led astray by the perversity of ideological, dogmatic and rationalist thinking, and deeply wounded by the Holocaust.
Elisabeth Raphaël has exhibited in London, New York, Chicago, Tel Aviv, Beijing and Fuping (China), Ube (Japan). She is represented in public collections in France and Israel.
"My sculptures are most often born of the dazzled reading of books and an artistic commitment inspired by the thought of my Masters: Emmanuel Lévinas, Edmond Jabès and Marc-Alain Ouaknin."
The sculptor, like the painter or the poet, strives to push back the limits of language, to say what cannot be said, to give form to the original word.
About
Annabelle met Elisabeth Raphaël in January 2023, and they have been working together ever since.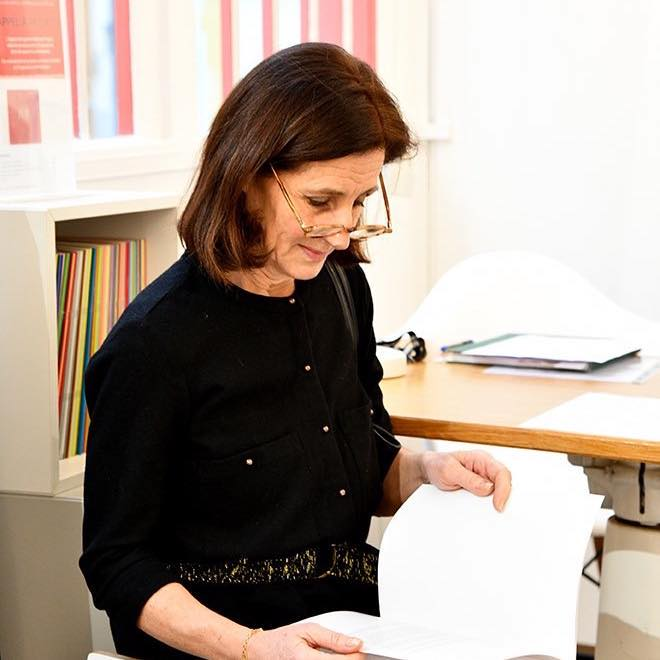 Jerusalem Biennial of Contemporary Art, Israel Amélie Maison d'Art, Paris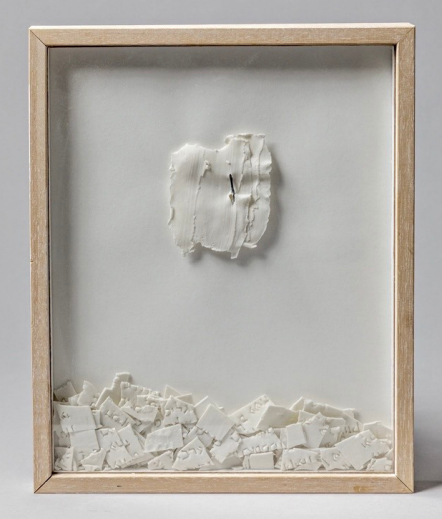 Victor de Rossi
Designer | Cabinetmaker
His work
Victor de Rossi grew up in an artistic family, his father being a sculptor and furniture designer.
At 16, Victor chose to differentiate himself through cooking. He joined a number of prestigious Parisian gastronomic establishments. There, he learned the discipline and rigor that he continues to apply to his work.
Since 2016, Victor has been working in his studio in La goutte d'or, Paris. He is convinced that the search for new forms in art furniture goes through the handcrafting of works. It is from this impulse, combined with direct work with materials, that his creations are born and become more organic. This intuitive approach gives each piece its unique character.
Victor will be exhibiting at PAD 2022 alongside Galerie Dumonteil.
About
Annabelle met Victor de Rossi in 2018. Since then, she has continued to present and promote his work. They have collaborated together on numerous occasions, for exhibitions or private commissions.